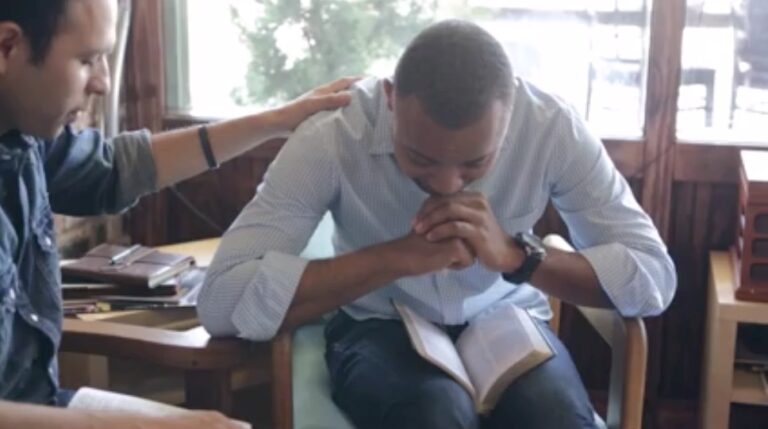 A Word from Bob: As most of you now know, on June 4, my dear wife, Shirley, suffered a stroke. Thank you for your prayers, care, and many letters, calls, visits, emails, and texts expressing your concern and love. If you want to see updates, you can visit here: Please Pray for Shirley.
We've Both Chosen to See Biblical Counselors 
As many of you know, just weeks before Shirley's stroke, we had celebrated our 40th wedding anniversary. God has given us a great love for one another. That foundation has only strengthened as we've walked through Shirley's stroke, her recovery process, and her ongoing rehab. We talk and share about everything.
Yet…we still each decided to begin meeting with a biblical counselor. Shirley meets with a female biblical counselor. I connect with a male biblical counselor. For each of us, these times of receiving loving biblical counseling have been wonderfully helpful. I share this as background for today's post: The Counselor Sees a Counselor. Here are some thoughts and reflections that I pray are helpful for you.
1. We All Need Soul Care—We All Need Biblical Counseling 
My counselor has asked to remain anonymous in this blog post—mainly because I told him I was going to say very positive things about him and his counsel. He does not want to be publicly highlighted because he is counseling me for the Lord and for me and not for public praise. That's a very humble man! Let's call him "Eric" just so I have a name for this blog post.
To be clear, I did not reach out to Eric and say:
"Would you like to start meeting for mutual one-another care."
That would have been great. And all of us need people in our lives with whom we share one-another soul care.
Instead, I reached out and asked:
"Eric, would you be willing to meet with me weekly to provide me with biblical counseling?"
What About You? 
My first hope in sharing this info is that you would be open to receiving biblical counseling—to be on the receiving end of someone else focused on helping you in your spiritual, emotional, and relational life. Perhaps you might respond to this post with:
"Bob has been a leader in the biblical counseling world for decades. He has decided to see a biblical counselor. Hmm. That frees me up to humbly admit that it would be helpful for me to open up to a counselor and to receive focused biblical soul care…"
2. We All Need a Compassionate Biblical Counselor 
When I started picturing who I wanted to meet with, I knew I wanted someone with compassion. In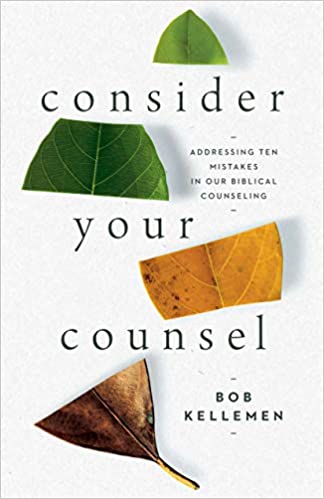 my most recent book, Consider Your Counsel: Addressing Ten Mistakes in Our Biblical Counseling, I explain that some of us as biblical counselors can commit mistakes like:
We elevate data collection above soul connection.

We share God's eternal story before listening to people's earthly story.
We target sin but diminish suffering.
We fail to follow the Trinity's model of comforting care.
We devalue emotions instead of seeing emotions as God's idea.
None of these are true of my counselor, "Eric." Eric connects with me soul-to-soul. He literally weeps with me when I weep. And he rejoices when I rejoice.
Eric listens well. So well. He hears me. He gets me. He practices lingering listening. He never rushes in with answers, before he compassionately hears my questions.
Like the Father of compassion, like our sympathetic High Priest, like our groaning Holy Spirit, Eric never diminishes the suffering Shirley and I are experiencing. Instead, he offers me his comforting care and the Trinity's compassionate comfort.
And Eric never devalues my feelings. Instead, Eric enters my feelings. He feels my feelings. Eric empathizes with my feelings.
In Consider Your Counsel: Addressing Ten Mistakes in Our Biblical Counseling, I mention that some of us as biblical counselors can get "fixated" on "helping people to suffer well." That sounds good, but by "suffer well" we often mean, "don't suffer at all!" We often skip lament and move into "trust God and don't feel." Eric suffers well with me by lamenting with me and by inviting me to lament with God. Eric grieves with me which opens me up to grieve with God.
What About Us? 
In our soul care for others, are we like Eric? Are we like the Trinity? Do we empathize with, grieve with, and weep with those who suffer?
As you look for someone to minister to your soul, are you looking for someone who is great at soul connection; who listens well and long to you; who honors and enters your suffering; who offers comforting care; who empathizes with your feelings…?
3. We All Need a Biblical Counselor Who Explores Scripture with Us
In Consider Your Counsel: Addressing Ten Mistakes in Our Biblical Counseling, I explore additional common mistakes in our biblical counseling, including:
We talk at counselees rather than exploring Scripture with
We share God's eternal story before listening to people's earthly story.
As a supervisor of counselors, here's what I often see:
We think biblical counseling is biblical Bible study.
So we talk at people instead of talking with people interactively and personally.
If we're not careful, we can become a facilitator of a "canned, one-size-fits-all" Bible study lesson. No matter who we counsel, we have our list of a few "favorite" passages and favorite questions and we force every person to fit into our pet verses.
Not so with Eric. He listens to me. He hears my story. He hears my soul. He hears my situation. Then Eric prayerfully ponders:
What relevant biblical passages might best meet Bob's specific need at this moment in his unique soul as he faces this particular personal situation?
One of the recent passages was so spot on. I know I've read it before—because I've read the entire Bible several times. But I never stopped to let this passage sink in. It's 2 Chronicles 20:12.
King Jehoshaphat and God's people are surrounded by an overwhelming force of several enemy armies. Then Jehoshaphat prays:
"Our God, we have no power to face this vast army that is attacking us. We do not know what to do, but our eyes are on you."
Jehoshaphat's words spoke for my soul and for Shirley's soul. Now Shirley and I have been praying this prayer together for the past several weeks. It fits for us. It's relevant to us. Thank you, Eric.
This past week, Eric and I explored together another "fitting passage"—Psalm 61. When Eric and I moved to this passage, he didn't "teach it to me." He didn't spoon feed it to me. Instead, Eric led me to explore it and apply it. He asked me great questions about the passage and about how it relates specifically to my soul, my situation, and my relationship to my Savior.
Because Eric empowered me to apply fitting truth to my specific situation, Shirley and I have been "chewing on" this passage all week, especially on the image of "take me to the Rock who is higher than I."
What About Us? 
As you think about someone you'd like to receive biblical counsel from, do you picture someone who is going to force feed you a one-size-fits-all canned Bible study? I hope not. Or, do you picture someone who listens well to your story so they wisely understand where to journey with you in God's story?
As you and I counsel others biblically:
Do we prayerfully ask God to lead us to fitting relevant biblical passages that could best meet our friend's specific need at this moment in their unique soul as they face this particular personal situation?
Do we explore Scripture together, empowering our counselee to personally apply God's Word specifically to their unique soul and particular situation?
Join the Conversation 
How open are you to seeing a biblical counselor?
If you were looking for a biblical counselor to see, what characteristics would you be looking for in them and in their biblical counseling?
As you counsel others, are you, and am I, a compassionate, loving, empathetic biblical counselor who explores Scriptures wisely with others—encouraging and empowering people to turn to the One who is the Word of Life?
The post The Counselor Sees a Counselor appeared first on RPM Ministries.