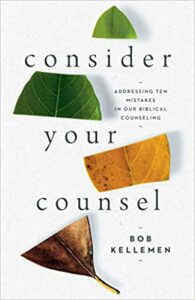 My latest book, Consider Your Counsel: Addressing Ten Mistakes in Our Biblical Counseling, releases next week on August 1, 2021 (on my birthday!).
Learn more about the book and download free resources here:

Consider Your Counsel.
Purchase an autograph copy of Consider Your Counsel on sale at 25% off for just $12.99 at my secure and easy-to-use RPM Bookstore.
Endorsements
 Honestly, I was a tad reluctant to write this book. I did not want it to be perceived in any way as a negative critique of the biblical counseling movement. So I asked some first-generation leaders of the BC world their thoughts. And I asked second and third-gen leaders. I've been encouraged not only by their kind words about the book, but especially by how they saw the intent of the book—to sharpen our skills as BCers. Here are 16 endorsements of Consider Your Counsel from a broad cross-section of BC pastors, practitioners, leaders, and professors.
"I have a new, favorite book to give to every biblical counselor who is desiring to sharpen their skills. My friend, Bob Kellemen, who in over thirty years of ministry has counseled thousands of individuals and supervised hundreds of counselors, guides us through ten of the areas where we are the most prone to err. He gives us solid analysis of our areas of weakness and then through practical example and winsome advice he directs us to biblical solutions. This book is such a treasure. So concise and so full of great insight. I want every one of my trainees to read it. The example Bob gives of exploring Scripture with your counselee using the life of Tamar is worth the price of book. Proverbs teaches us to love reproof and Bob is a gentle shepherd offering us wise reproof. His insights in the areas of emotions and the body-soul connection are powerful. This book is a wonderful gift to the counselor and to those of us who supervise counselors to sharpen and strengthen us for greater effectiveness in ministering God's grace through His authoritative Word to the Body of Christ."—Dr. Bob Somerville, ACBC Fellow, Adjunct Professor, The Master's University, Author of If I'm A Christian, Why Am I Depressed?
"Bob has hit the nail on the head! Every biblical counselor should review this book annually. Every counselor in supervision should be required to read to it. It is not a critique. It is a self-evaluation tool that will aid the counselor in maintaining biblical excellence while providing competent, consistent under-shepherding. This book is rather like the pastoral epistles focused on one aspect of ministering. This is one of those books I wish I had written. Having supervised about 300 counselors towards certification, I've touched on all of these issues more than once." —Dr. Howard Eyrich, Director of Doctor of Ministry Program, Birmingham Theological Seminary, Fellow ACBC 
"The pace at which a counselee changes is often a reflection of how skillfully the counselor models the compassion of Christ and ministers the Word of God. In Consider Your Counsel, Bob Kellemen provides wise, insightful, and practical advice to biblical counselors in ten areas where we can easily err. The concise chapters, exposition of Scripture, and questions for evaluation at the end of each chapter make this book ideal for personal or group study. The historical quotations and stories are powerful. This is a valuable resource for every counselor who wants to keep sharpening their ministry skills."—Randy Patten, Director of Training Emeritus, the Association of Certified Biblical Counselors, Founder and President of TEAM Focus Ministries
"Drawing upon years of experience in training and supervising biblical counselors, Bob Kellemen highlights the mistakes and imbalances he has observed in both young and seasoned counselors (including himself!) in order to provide a 'supervision in writing' for his readers. In so doing, he implicitly demonstrates the growth and development of the biblical counseling movement over time. Particularly helpful are his reflections on the relationship between the sufficiency of Scripture and the competency of the biblical counselor."—Michael R. Emlet, M.Div., M.D., Dean of Faculty and Counselor, Christian Counseling & Educational Foundation (CCEF); Author of Saints, Sufferers, and Sinners
"As counselors, it's our aim to help people in the process of change and growth. But what about us? Counselors must never lose sight of the fact that we, too, are in that same process. Consider Your Counsel sheds fresh light on the value and benefit of humble evaluation and continued sharpening. I highly commend Bob's book to the newest and most seasoned counselors alike and encourage you to join me in revisiting it often."—Eliza Huie, LCPC, Author of Raising Kids in a Screen-Saturated World
"Good counselors should know how to evaluate our counsel and learn from our mistakes. In his latest book, Bob Kellemen does exactly that. Pulling from a deep well of experience, he works through ten common mistakes biblical counselors can make. Through it all, Bob's heart for others shines through; never the stern or austere judge, he serves as a loving and patient guide. This brief book should be required for all counselors new and old alike."—Jonathan D. Holmes, Executive Director, Fieldstone Counseling; Pastor of Counseling, Parkside Church   
"Bob Kellemen is a counselor of counselors, and this book is his equipping workshop. More than a list of common mistakes, this is a foundational philosophy of counseling in an accessible and concise form. If it is said so often that it has become cliche, the saying is true in this case: this is a book all counselors need to read!"—David R. Dunham, Pastor of Counseling & Discipleship at Cornerstone Baptist Church 
"Bob Kellemen reminds us that using the Bible alone is not biblical counseling. We must care about how we use the Bible and how we relate to counselees. Our biblical counseling skills should improve over time, but what if we're blind to our weaknesses and don't have others to review our sessions? Both novice and seasoned biblical counselors can appreciate the balanced insights in this book as we consider our counsel for the glory of God."—Dr. Lilly Park, Associate Professor, Southwestern Baptist Theological Seminary
"When I read books on counseling, I measure them by the chapters that speak to my need to be a better counselor. Consider Your Counsel, by Bob Kellemen helps me in all ten chapters. He calls me to listen more, and reminds me that I need to see counselees first as sufferers. As a physician, I am grateful for the reminder that physical disorders impact our emotions, thinking, and behavior. There is so much good in this book for anyone who wants to be better at helping others!"—Charles D. Hodges, Jr, MD, Practicing Family Physician in Indianapolis, Indiana, Executive Director, Vision of Hope, Lafayette, Indiana
"Bob Kellemen is the biblical counselor's biblical counselor. His work in Consider Your Counsel is profoundly scriptural and transformative. It is an essential guidebook for the new and seasoned biblical counselor. The poignant questions and illustrations throughout the book offer biblical self-examination and encouragement to learn and grow into a mature biblical counselor. If you want to be an effective biblical counselor, then I highly recommend this book. I will be getting the counseling team at my church each a copy of this book and we will go through it at our monthly training meetings."—Shannon Kay McCoy, (ACBC), Biblical Counseling Director, Valley Center Community Church, Council Member, Biblical Counseling Coalition
"Bob Kellemen is one of the most encouraging people I know. Even when he is challenging his fellow biblical counselors regarding errors we sometimes make, he does so in a gentle and positive manner. He draws upon his decades of experience training counselors to succinctly identify ten ways in which we (and yes, that includes me) fall short of providing the loving biblical care we aspire to give. Bob supports his concerns with Scripture while also offering wisdom from historical examples of faithful soul care. This is a book I want to get into the hands of my students as they move from the theory to the practice of biblical counseling."—Dr. Jim Newheiser, Director of the Christian Counseling Program, RTS Charlotte, Executive Director IBCC, Author of Money, Debt, and Finances 
"Bob Kellemen is an insightful and compassionate counselor. In Consider Your Counsel, you will find his insights and compassion accumulated throughout years of experience as a counselor and as a biblical counseling professor. Any counselor, no matter how much experience, will be edified with the reading of Bob's perception of common mistakes in counseling. Please read it, consider it, and grow in personal holiness and ministry faithfulness.—Alexandre "Sacha" Mendes, D.Min., Pastor, Board of Directors of the Biblical Counseling Coalition, Director at ABCB (Brazilian Association of Biblical Counseling)
"Prevention and correction. These are two marvelous benefits that come from reading Consider Your Counsel. This book will prevent those entering biblical counseling ministry from making common mistakes that have plagued many in biblical counseling. It will also serve to correct many who have been counseling for some time who have fallen into these common pitfalls. What is most beneficial is the loving corrective tone of the writing coming from a dear brother with tremendous experience both counseling and training others to counsel. Dr. Kellemen draws from his ministry experience to lovingly encourage, courageously sharpen, and compassionately strengthen our movement. The biblical counseling movement will be well served by this excellent resource for generations to come."—C.W. Solomon, PhD, Executive Director, The Biblical Counseling Coalition
"In Consider Your Counsel, Dr. Kellemen distills thirty-five years of experience in the classroom and church to highlight ten common mistakes we can make as pastors, counselors, and the body of Christ. But he doesn't merely point out our tendencies, but offers a loving way forward. Consider Your Counsel is a gift to the church by casting a vision for compassionate, comprehensive, and communal care that reflects the God of all comfort and our Good Shepherd. This work will benefit every church leader and member as we seek to bear one another's burdens."—Robert K. Cheong, Pastor of Care-Sojourn Church Midtown, Executive Director-Gospel Care Ministries
"Dr. Kellemen has done an outstanding job highlighting the most common and significant mistakes of those practicing biblical counseling. While there are many resources that highlight what biblical counselors should believe and practice, this is the only resource highlighting potential pitfalls to be avoided so as to care for counselees in a Christlike manner. Consider Your Counsel is comprehensive in that it highlights different pitfalls to avoid, provides helpful self-assessments, and provides necessary advice for correction if needed. Consider Your Counsel is also succinct as Dr. Kellemen is to clear and the point Consider Your Counsel is extremely valuable to both the novice and seasoned counselor. I am excited to add to the required readings list for my team of counselors." —Ben Marshall, Pastor of Counseling, Canyon Hills Community Church, Bothel, Washington, ACBC and IABC Certified Biblical Counselor
"In Consider Your Counsel, Dr. Kellemen continues his consistent emphasis on Christlike, incarnational, personal ministry. This work on compassionate soul care ministry is a stimulating challenge to veteran counselors as well as needed training for new biblical counselors."—Dr. Brent Aucoin, Pastor of Seminary and Soul Care Ministry, Faith Church, Lafayette, Indiana
The post "A New Favorite Book to Give to Every Biblical Counselor…" appeared first on RPM Ministries.