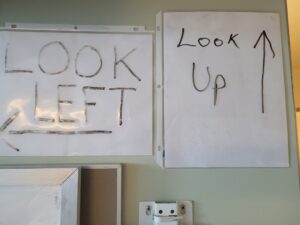 Updates on Shirley: For updates on Shirley's recovery from her stroke on June 4, visit Please Pray for Shirley. To read Scriptures that Shirley and I are focusing on during these trying times, you can visit Shirley's Scriptures. For a major lesson we are learning together, check out What Do We Really Mean When We Ask God for "Help"? 
"Look Left" 
For the past ten days, Shirley has been at UW Acute Rehab. They call it "boot camp." It's intense. It's so intense that at one point Shirley asked me to play on my phone "Eye of the Tiger" from Rocky while she was in physical therapy.
Shirley's stroke paralyzed her left side. All the intensive therapy is designed to reboot the brain's connection to Shirley's left side. Part of this paralysis includes Shirley currently not "noticing" or "detecting" or even thinking about what's on her left.
So the therapists had us put up a sign with the simple reminder, "Look left." Shirley will spot that sign (which is on her right), lift her head, and purposefully and slowly turn her neck and head to the left.
Even while reading, Shirley needs to keep remembering to "look left." I posted large print Bible verses around Shirley's hospital room. She asked me, "Bob, why did you leave out the first word of each line?" Then Shirley reminded herself to look to the far left of the page and then she found the words that had seemed to be missing.
"Look Up" 
A couple of days ago, the sorrow, the loss, and the grief really started to sink in for Shirley. At this point, we don't know how much of Shirley's left side mobility she may regain. We don't know how much of her left eye vision she will regain. This is, of course, very sad. It's a real loss. Shirley is grieving and missing "the old Shirley" who could read, type, edit; who could run and play with her grandkids; who could beat me in pickleball.
On this day of grieving, God sent us several people to help Shirley (and me) to process through these sad feelings. Toward the end of one of those helpful conversations, an image hit me. I shared with Shirley:
"You know, just like you need those gentle reminders to 'look left;' you and I need some gentle reminders to 'look up.'"
Shirley knew exactly what I meant.
"Bob! Bob! You have to write that in big print right now. Please put it right next to the 'look left' reminder. Let's remind each other throughout each day to 'look up to God.'"
Now here's the thing. As we talked about looking up, we did NOT mean "look up to God and pretend everything is fine and easy." Not at all. No, we meant:
"Look up to God in raw honesty, sharing whatever is on our heart and in our mind. Look up to God in lament and grief. Look up to God in sadness and sorrow. Look up to God in dependent trust. Look up to God in worship. Look up to God clinging to Christ."
And that's what's Shirley and I have been doing these past several days. We've been looking up to our Father of compassion and God of all comfort (2 Corinthians 1:3-4) and sharing with Him whatever is on our hearts, whatever we feel, whatever we think. We're looking up to our heavenly Father in real and raw honesty—worshipping Him by trusting Him even in those moments when our hearts break because of a currently broken body…
What About You? 
Are you "looking up?" Whatever your circumstances; whatever your inner thoughts and feelings—are you looking up and taking who you are to your Father of compassion and the God of all comfort?
The post "Look Left; Look Up!" appeared first on RPM Ministries.