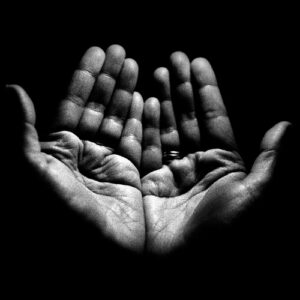 If you've been following my updates on my wife, Shirley's health and recovery/rehab from a stroke (Please Pray for Shirley), then you've read about our Prayer Acrostic: HELP
H: Heal Shirley's Body

E: Encourage Shirley's Soul

L: Love—Grasp God's Love

P: Peace—Know God's Peace
So, I believe in praying for God's HELP.
Human Help 
I've been thinking a lot about "help" lately. We can use the word "help" in a very human-centered way.
I might say, "Can you help me with the dishes? I'll wash; you dry."
Or, I might say, "Could you help me carry that sofa? I'll take the heavy end and walk backwards; you take the light end and walk forwards."
In these very mundane images, I'm asking you to add your strength to mine. I'm asking you to assist me. I have plenty of strength. I just need a little support.
God's Help from a Human-Focused Perspective 
If I'm not careful, I can find myself asking God for help in a human-focused way.
"God, please help heal Shirley." This is like I'm saying, "Shirley and her body are doing all the hard work. God, please come alongside and assist Shirley and her body to heal."
God's Help from a God-Focused Perspective 
From a God-focused, Christ-centered, cross-dependent, resurrection-hope perspective, help is not God adding His support and assistance to my strength.
No. Instead, God's help is His infinite power at work in my weakness. Consider 2 Corinthians 12 where Paul's physical ailment (his thorn in the flesh), motivates Paul to cry out to Christ in total dependance:
But he said to me, "My grace is sufficient for you, for my power is made perfect in weakness." Therefore I will boast all the more gladly about my weaknesses, so that Christ's power may rest on me. That is why, for Christ's sake, I delight in weaknesses, in insults, in hardships, in persecutions, in difficulties. For when I am weak, then I am strong (2 Corinthians 12:9-10).
So now, I've been praying Help prayers like this…
"Father, by Your infinite power and wisdom, heal Shirley's body." It's not, "Help heal Shirley's body." It's, "You are the Healer. Please do Your infinite work in Shirley's body. She can do the work of rehab, but Your power provides the ultimate healing."
"Father, provide Your infinite wisdom to the physicians, the physical therapists, the occupational therapists, the nurses so that through You they provide Shirley with the best care." It's not, "Help Shirley's medical team." It's, "Empower and enlighten Shirley's medical team with Your infinite wisdom and strength."
"Father, please empower me to love and serve and minister well and wisely to Shirley, body, soul, and spirit." It's not, "Help me help Shirley," as if God is my assistant! It's, "God, You are infinite. I am finite. You are all-powerful. I am so weak. Please fill me with your power to minister to Shirley."
Biblical Help 
Biblically, God doesn't just assist us. He carries us.
God doesn't just add some strength to us, carrying the light end of the sofa, or even carrying the heavy end of the sofa. God gives/grants us the very strength to even reach out and touch the sofa. To even see the sofa. To even identify the sofa as a sofa! 
God's help is His infinite power at work in my weakness.
God's power is made perfect in my weakness.
Christ's power rests upon and in my weakness.
I delight in my weaknesses because when I am weak, then in Christ and through Christ's strength I am empowered by God to be strong.
So What Now? 
So, are we praying, "God help me," meaning add a little of You to all my capacities?
Instead, let's be praying:
"Father, I am empty. I am weak. I am spent. I am exhausted. I am needy. So, please infinite and loving Father, fill me, empower me, strengthen me, carry me, rescue me, save me, enable me, encourage me, lift me up, hold me, be my refuge, be my strength."
Rather than asking God to lend a hand, or give us a handout, let's open our hands to our infinite and loving Father in desperate weakness.
Let's ask God to be to us Who He promises He is, "our refuge and strength, our ever-present help in trouble" (Psalm 46:1).
The post What Do We Really Mean When We Ask God for "Help"? appeared first on RPM Ministries.