Shirley has been meditating on the following passages—typed in large print and at her bedside.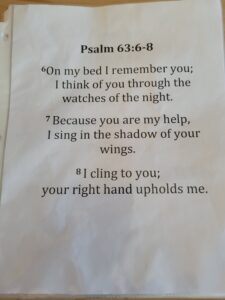 Shirley wanted to share these precious Scriptures with you. To follow updates on Shirley, you can visit this link: Please Pray for Shirley.
Psalm 63:6-8 
On my bed I remember you; I think of you through the watches of the night. Because you are my help, I sing in the shadow of your wings. I cling to you; your right hand upholds me.
Psalm 46:1
God is our refuge and strength, an ever-present HELP in trouble.
HELP
H: Heal My Body
E: Encourage My Soul
L: Love—Grasp God's Love
P: Peace—Know God's Peace 
Psalm 32:8
I will instruct you and teach you in the way you should go; I will counsel you with my loving eye on you.
Psalm 36:5 
Your love, Lord, reaches to the heavens, your faithfulness to the clouds.
Isaiah 40:11
God tends his flock like a shepherd: He gathers the lambs in his arms and carries them close to his heart; he gently leads those that have young.
Proverbs 3:5-6
Trust in the Lord with all your heart and lean not on your own understanding; in all your ways acknowledge him, and he will make your paths straight.
Hebrews 4:15-16
We do not have a high priest who is unable to empathize with our weaknesses, but we have one who has been tempted in every way, just as we are—yet he did not sin. Let us then approach God's throne of grace with boldness and confidence, so that we may receive mercy and find grace to help us in our time of need.
Psalm 42:1-2 
As the deer pants for streams of water, so my soul pants for you, my God. My soul thirsts for God, for the living God.
Isaiah 26:3 
You will keep me in perfect peace because my mind is stayed on You, because I trust in You.
Genesis 16:13 
She gave this name to the Lord who spoke to her: "You are the God who sees me" (El Roi) for she said, "I have now seen the One who sees me." 
Matthew 11:28-30 
"Come to me, all you who are weary and burdened, and I will give you rest. Take my yoke upon you and learn from me, for I am gentle and humble in heart, and you will find rest for your souls. For my yoke is easy and my burden is light." 
Psalm 116:1-2 
I love the Lord, for he heard my voice; he heard my cry for mercy. Because he turned his ear to me, I will call on him as long as I live. 
Ephesians 3:20-21
Now to him who is able to do immeasurably more than all we ask or imagine, according to his power that is at work within us, to him be glory in the church and in Christ Jesus throughout all generations, for ever and ever! Amen.
John 16:33 
"I have told you these things, so that in me you may have peace. In this world you will have trouble. But take heart! I have overcome the world."
2 Corinthians 1:3-4 
Praise be to the God and Father of our Lord Jesus Christ, the Father of compassion and the God of all comfort, who comforts us in all our troubles, so that we can comfort those in any trouble with the comfort we ourselves receive from God.
The post Shirley's Scriptures appeared first on RPM Ministries.