A Word from Bob: Today's blog is a guest post from my friend and former student, Monika Rakossy. I hope you enjoy—as much as I did—Monika's testimony about equipping other biblical counselors. And, I hope you're encouraged to trust God to stretch you to do great things for Him—just as Monika experienced. 
Content to Minister
While I (Monika) was a student at Faith Bible Seminary in the MA in Biblical Counseling, I often heard about my professors' passion to equip us to equip others in biblical counseling. However, I could not see myself training other counselors.
Even years later, I considered it a privilege (and I was content) to provide occasional trainings to our staff and students at Word of Life Hungary. I love discipleship and the personal ministry of the Word.
The Invitation to Equip Others
Then, in November 2020, I was invited to lead a Biblical Counseling Lab at Kyiv Theological Seminary (KTS) in the Ukraine. The ministry of Overseas Instruction in Counseling (OIC) has had a Graduate program at this Seminary for years, but a counseling lab was not part of the curriculum.
I was stunned.
Pushed to God
I did not think I was ready for something as big as that opportunity. But then I remembered the words of one of my wise counselors who reminded me that everything was bigger than me. And I said "Yes" by faith. I chose to trust God that He would come through in my weakness (2 Corinthians 12:9-10). He wanted me to learn so much more about total dependence on Him!
The preparation time for the Spring Semester of 2021 was already a huge blessing. It was a joy to work together with Dr. Wayne Vanderwier, founder of OIC, and to learn from him. I also had a host of prayer warriors behind me, who faithfully walked with me throughout the whole adventure. Recognizing my inadequacy pushed me to God, to the best place where God is exalted and magnified. He does equip and sustain us in all that He calls us to do!
Role Models
My training at Faith Bible Seminary proved to be invaluable! I always treasured my class notes and every material I collected throughout the training, but I never realized the huge impact my professors and Faith Church had on my life.
As I was preparing to teach, my professors were my role models. My desire was to love and care for the students like they did, while providing a high-level education. Knowing that many of my students are pastors in different churches in Ukraine, one of my goals was to help them catch a vision how their congregation could grow in ministering to one another.
I shared with them the beautiful example of Faith Church and my personal experiences in the Adult Bible Fellowship classes, visiting the Vision of Hope ministry, and their Community Centers. I also wanted my students to leave encouraged that counseling is biblical wisdom lovingly applied—and they can do that by God's grace!
Continuing a Legacy
I cannot be thankful enough for Dr. Bob Kellemen's help in facilitating the Counseling Lab at KTS. He not only provided his own notes, but prayed, encouraged, and was willing to walk with me at every step of this unknown and intimidating road for me.
I had experienced the Biblical Counseling Lab first under the leadership of Dr. Kellemen at Faith Bible Seminary. Dr. Kellemen summarizes his vision for the lab small group like this:
"We learn to become more effective biblical counselors by giving and receiving biblical counseling in community."
In Dr. Kellemen's model, that means that throughout the lab small group class, we don't just discuss case reports, we don't just participate in role play counseling, and we don't just observe strangers being counseled. Instead, we counsel one another in the class regarding real-life issues. By God's grace, my goal was to replicate that model in the Ukraine.
Feasting on the Word of Life
The week of teaching in the Ukraine was wonderful! I enjoyed getting to know these precious MABC students and grow with them! They were all so kind and so respectful (many of them older and with a lot more ministry experience than me), and eager to learn and grow. I was honored and humbled by their transparency during the live counseling sessions! By God's grace everything went well as we all learned and grew together.
For the last day I gave the students the assignment to think of a word picture, an image, or summary statement that describes their lab partner. After they shared these encouragements with one another, I asked them if anybody wanted to share with the group. Such beautiful testimonies! One female student made a whole PowerPoint presentation of her friend, a pastor shared with tears in his eyes that for 16 years he hasn't had a "Paul" in his life and how thankful he was that he now had one.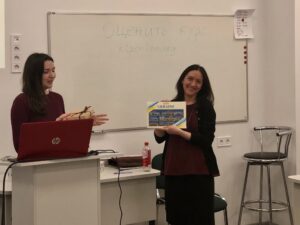 The class decided to include me in this assignment. At the end of the week, I received a beautiful hummingbird brooch from the group with a very touching explanation of why I reminded them on this little bird. They described me as tiny, but strong, with the largest heart of all animals, and eats a lot of nectar. They said they could see how much I loved and feasted on the Word of Life. It was so kind of them! I cried, of course.
Faith-Deepening and Heart-Challenging
I am sure I learned more than anybody that week, but I know they were blessed as well!
It was for sure a faith-deepening and heart-challenging experience. What a blessing to be a small part of something huge that the Lord is doing around the world! I am so thankful I didn't miss this opportunity, and I believe God was glorified!
Join the Conversation
What is God calling you to do that seems bigger than you are? How can you trust God to be big enough to equip and empower you?
The post Me? Equip Other Biblical Counselors? appeared first on RPM Ministries.